Blue Dart Courier Tracking
This tracking tool helps you to track current blue dart tracking number status.You can easily request to check consignment number status using your waybill number or reference id.Get the shipment overview now.
Simple steps to follow to check Blue Dart Tracking shipment status
First Get the AWB number/Waybill or the reference number from the receipt.
If you have the Waybill or AWB number, select the first radio button.For Reference number, select the second radio button.
Enter 8+3 (11 digits waybill number) and click on the Track status button.
The current status of your consignment or parcel will be displayed on a new tab.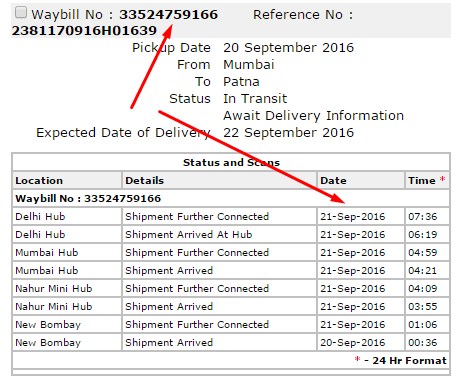 Tracking Number Format: All domestic and international shipment's air waybill numbers contain 11 digits AWB code i.e – 112536895474. It is your tracking consignment number.Keep it safe until delivery done.
How to find consignment number details: The consignment number can be found in shippers copy.It is mainly printed in the middle of the receipt.Check the barcode and reference code.
Validity Of Tracking Number: Check consignment number status from Bluedart main tracking page.It shows the parcel location with main hub details.Basically tracking data is updated within 24 hrs of booking.However, we found in some cases it takes up to 72 hrs.Maximum Allowed Period For Tracking Consignment shipment is up to 45 days from despatch.There will be no tracking information available after this period.
Blue Dart Tracking Alternatives
TrackDart: You can find this tool at their website left corner.Using this tracking tool you may track the shipment of India or to Nepal, Bangladesh or Bhutan.
ShopTrack : Shoptrack provides effortless tracking experience.You don't need to leave the site portal.Enter the order no and it will show you the tracking result on the same page.
PackTrack: PackTrackTM is an API (Applications Program Interface) which specially designed for large inventory tracking.It is simple, easy-to-use and can be easily integrated with any Windows-based application or any Java compliant machine.The client can store the tracking data on the server for future use.
Mail dart: Mail tracking has the facility to track shipment through a mail.You can send the consignment no to track@bluedart.com and see the tracking result in your inbox.For sending multiple consignments no use comma as a separator.
Through Routing Servlet: There is a simple tracking URL which can be used to track trace all domestic and international express shipment fast.The main URL is – [ http://bluedart.com/servlet/RoutingServlet?action=awbquery&awb=awb&handler=tnt&numbers= ] but here you have to add the consignment code at the end of the link.The final link looks like " http://bluedart.com/servlet/RoutingServlet?action=awbquery&awb=awb&handler=tnt&numbers=12345678901″.Copy and paste the entire link to see current parcel delivery status.
We have already discussed multiple tracking methods in above section.However, if you didn't read, let us remind you that you need to enter 11 digits numeric consignment code for tracking blue dart surface line shipment live.
Available Services that can be track:
Domestic Priority: Delivery done on next business day in all major cities in India.
Critical Express: It is the fastest and safest mode for sending sensitive documents.
International Express: For overseas country services you can choose their international delivery which is merged with DHL Express.
Tracking related questions and answers:
Consignment No shows an error: if your consignment number not working then please recheck the number format before entering.Kindly wait for some time until it's updated by the team.
Consignment shows Out of delivery Area: They have branches in all corner of India.But still, they don't offer their service in some rural places.in this case, you need to visit the nearest courier branch to receive the item.
AWB/Reference Number: The AWB number contains 11 digits code which can be tracked online.At the same time, you are also welcome to track your package with the alternative reference no.
Shipment Returned to origin: Shipment returned to origin, it's possible if they don't find consignee at the particular location.
I didn't Get Any Call From Courier Office: Before delivery, they often call you for verifying consignee address.Please switch on your phone all the time so that they don't miss you.
Shipment Redirected On New Airway Bill: In very rare case the AWB number is changed for some internal issues.You will receive parcel but it might take sometimes.
Shipment Tallied!: It will be recounted by the courier company.
Having trouble with getting Consignment Status? If above possible reasons are not related to you, then you can contact customer care team
Submit Delivery Complaint: You should first contact customer care team with valid tracking number.If you don't receive a satisfactory reply from Blue dart, you can submit a complaint to Indian consumer care site.
Official website – www bluedart com tracking
Customer Care Toll-Free No: 1860 233 1234
You can check shipping rates, find locations, customer service for any help.